There were a lot of things that I loved about being a Daddy to Daughters. 
I loved teaching them about what it means to be valued. I loved telling them silly jokes. I loved to hear them laugh. I loved holding them and rocking them to sleep at night. I loved laying next to them in bed at night and telling funny stories as I would eventually get to a point of singing them to sleep.  
One of the things I loved to do as much as anything was dancing with them when they were little. If you're a Dad or you are a Daughter, you know what I'm talking about. Not the dancing you do when they're teenagers as you prepare them for some school dance. I'm talking about the dancing you do when they're little, innocent, trusting young girls. The kind of dancing that starts with them grabbing your hands and then stepping up - one foot after the other - on top of your toes. It is PRICELESS!
Whether it was being done for fun, laughter and entertainment or it was being done to teach them a few dance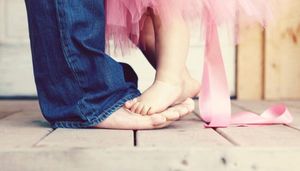 steps, it always ended up with my girls holding onto my hands as tight as they could possibly grip, their head thrown back and hair flowing in the air as we spun around in endless circles. There was always laughter. If I stepped right, they stepped right. If I stepped left, they stepped left. If I spun, they spun. When you're standing on someone's toes, you can't help but move when they move and be still when they're still.
During those fun dance episodes, it was as if they didn't have a care in the world. And come to think of it, I didn't have a care in the world at those times either. All I focused on was how trusting they were. How they held fast to the fact that they knew, that they knew, that they knew that there was NO WAY that their Daddy was going to ever let go of them where they could get hurt. 
As I walk down this new road that God has had us on these last five months, He's teaching me once again through my experiences as an earthly dad that He wants that same thing from me and for me. My Heavenly Father wants me to walk THAT CLOSE with him each and every day. My Heavenly Father wants me to TRUST HIM just like my girls trusted me. My Heavenly Father wants me to rejoice in the joy that He provides. 
In the longest chapter in the bible, the Psalmist who penned Chapter 119, writes:
"How can a young man keep his way pure? By keeping it according to Your word. With all my heart I have sought You. Do not let me wander from Your commandments. Your word I have treasured in my heart, that I may not sin against You." 
The answer to many of life's challenges can be found in that passage, Verse 9-11. God wants us so close to Him that it's hard for the world to tell where we end and He starts. He also knows that if we are standing on His toes, we will only move when He moves; we will Be Still when He's still and we will have peace and contentment in each of those scenarios.
When my girls danced with me in  the manner above, we were always in unison. We moved as one. God wants our walk (or dance) with him to be the same way and He tells us how to do it and what the outcome will be:
"He who has My commandments and keeps them is the one who loves Me; and he who loves Me will be loved by My Father, and I will love him and will disclose myself to him." - John 14:22
"If you will only obey me, you will have plenty to eat." - Isaiah 1:19
"Keep this Book of the Law always on your lips; meditate on it day and night so that you may be careful to do everything written in it. Then you will be prosperous and successful." - Joshua 1:8
I'm learning to walk (dance) closer to Him each day. I'm also learning that He will always step in at just the right time to rescue His children. Why does He do that? That's What Daddies Do!