People deal with the ups and downs of life in different manners. Some people work; some workout. Some eat; some stop eating. Some folks cook; some choose to deal with things by masking the pain with medication, alcohol or drugs. I'm not here to condemn, criticize or complain about how others deal with their life circumstances. I'm just saying all this to explain where this is coming from. 
My salve comes in the form of writing. 
This year has been a year of peaks, valleys, twists and turns for our family. Sunday evening, Oct 1 at approximately 1:15 a.m., the road took another twist as Cindy's dad, Ray Epps, took his last breath after a 20+ year battle with cancer that he never, ever backed down from or gave up on. The man that told me to "just call me dad" from Day 1, was a fighter till the end. Some may say that he "lost" his battle with cancer. I choose to believe that God saw a warrior that was battle scarred but still standing, swinging his sword at that ugly demon we know as cancer and said, "son, that's enough; come home." 
I first met Raymond Riley Epps in October of 1993 after Cindy and I had been dating for almost two months. Whether you're 18 years old or 28, it's never easy meeting your girlfriend's dad for the first time. From that initial meeting, he immediately made me feel like a part of the family. While he was never the tallest man in the room, he absolutely was a bigger-than-life figure. His infectious smile always had a way of welcoming newcomers into the family; his deep baritone voice had a way of bringing things to a standstill if there was something that needed to be heard by all in the room; that same booming voice could turn to a warm soothing tone in a one-on-one conversation as he genuinely inquired about your life, your work, his grandkid's lives, hobbies, etc. 
Dad loved life and he lived it to its fullest. Dad was the guy standing at the gates of heaven wringing out every ounce of life that he could before walking onto those streets of gold. When he was originally diagnosed with cancer in 1995, he was told that at-best he had six months to get his affairs in order. He colorfully told the doctor to leave his room or change his attitude because "you're a quitter!" Dad didn't just beat cancer; his passion and will to live literally OUT-WILLED cancer. He beat it in his lungs; his gall bladder; his lungs again. He walked out of the hospital less than 72-hours after a stroke just over two years ago with no physical signs of the stroke; he didn't lose weight during his massive chemo and radiation treatments – HE GAINED WEIGHT!!!
While the list of things that he loved about life could take pages to chronicle, the things that always stood out to me about dad were his love for: 
His Grandkids – while the adults would spend time catching up at family gatherings, you could always find PawPaw sitting and talking with the kids, whether they were two or 22. 
Christmas – from dressing up as Santa; painstakingly decorating the house with lights and making sure there were NO CORDS TO BE SEEN!!! 
The Law – I loved to sit and ask him about cases and he loved to talk about cases. Old cases; new cases; famous cases; not-so-famous cases; family law or criminal law; his simple misdemeanor cases he defended or his major Capital Murder cases he tried. Dad could talk about them for hours and I could have listened for hours. 
Underdogs – The little guy whether innocent or guilty; the spurned wife whose husband walked out with all the money believing he had her over a barrel since she couldn't afford a solid family-law attorney – Dad believed everyone deserved a good lawyer and when possible, he would gladly step up and be that lawyer. The State Bar of Texas recognized Dad for his Pro Bono work last year and it was one of the proudest moments in his 51-year legal career. Show dad someone that couldn't afford legal representation and he'd swoop in to save the day!! 
Old Fashioned Values & Courtesies – things like yes sir, no sir; please and thank you; opening the door for a lady; giving up your seat for someone that needed a place to sit; honoring your wife; being a gentleman
These are some of the things that I think about when I think about him.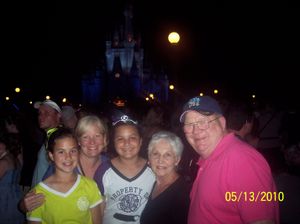 Don't get me wrong, we didn't always see eye to eye – what son-in-law and father-in-law ever do? Right, Kaedon Kesterson? But if dad was anything, he was loving; he was consistent; he was direct and if you asked his opinion, you'd better be ready for an answer. I loved that about him and I will miss that about him. 
Of all that he loved though, there was one love and passion he had that I immediately saw from our first meeting. Dad loved mom. 
Several months ago, I wrote about how my dad (Lloyd Randolph) demonstrated the importance of loving your wife the way he did my mom. As I look back on the last 23 years of my life I realize that while my daddy (Lloyd Randolph) showed me how a husband is to love his wife in my early years, dad (Ray Epps) ingrained that behavior in my heart in the way that he loved mom (Dot Epps). 
In 1987, Michael Martin Murphy recorded a song that would make it to #1 on the Country Billboard charts. I was working at the time as an overnight DJ at KINE in Kingsville, Tx. while attending college at Texas A&I so I heard that song a lot. I thought it was a good song, but it never really got its hooks into me. As I look back now, that song can be a three minute and 19 second testament to how blessed my life has been because of these two dads in my life:
V1 
I bought a beautiful diamond ring I offered it to the sweetest thing I know 
And she said she would take it 
We started making some wedding plans, She looked at me and she took my hand 
And said "are you sure we can make it" 
I said my granddad's still in love with my grandma 
I said my dad still thinks my mom's the sweetest thing he ever saw 
Chorus 
I come from a long line of love 
When the times get hard, we don't give up 
Forever's in my heart and in my blood 
You see I come from a long line of love
I will miss dad. I will miss his laughter. I will miss how he sat and watched each child at Christmas open gifts and how he was sometimes more excited than the kids! But here is what I know - my life is richer today because Ray Epps hugged my neck 23 years ago and gave me permission to ask his baby girl to spend the rest of her life with me. I promised him on that cold December afternoon in 1995 that I would love Cindy forever and that I would take care of her. Although he is gone, I intend to keep my promise because just like Lloyd Randolph, Ray Epps showed me that "I come from a long line of love!"