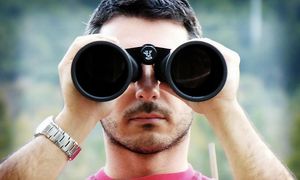 "Forget the former things; do not dwell on the past. 
"I, even I, am he who blots out your transgressions...and remembers your sins no more." 
-- Isaiah 43:18, 25 
My life has been filled with stupidity. Decision after decision took me farther and farther from God for almost 35 years of my life. Still today - like a dog returning to its own vomit (Prov. 26:11) - I am prone to letting God down with some of the same mistakes and sins. 
The byproduct of this is that I tend to beat myself up and wonder how God can use someone like me for His Kingdom's work. I allow satan to speak to me and use those past sins as leverage to create questions and doubt. And then God shows up in the midst of my self-pity with a passage like this one this morning. As I read this, God used the power of analogies like He does so often for me because He knows they help me see IT and eventually GET IT! 
Cars have rear view mirrors not so that we can dwell on the past, but so that we can see the possible pitfalls and dangers that are sneaking up behind us - a speeding car; a reckless driver; a car in our blind spot that could cause a wreck if I don't check it out. But we cannot drive our cars with confidence, purpose and true direction if we are focusing our attention in the rear view mirror. We must keep looking ahead. We must check the mirror to ensure no dangers are lurking, but we must keep our eyes facing forward! 
The apostle Paul said it best in Philippians 3:13-14 - "...but one thing I do: FORGETTING what lies behind and REACHING FORWARD to what lies ahead, I press on toward the goal for the prize of the upward call of God in Christ Jesus." 
God confirmed for me this morning as the sun started rising on our East Texas skyline that He has forgiven my sins - not just the ones from 20 years ago - but yesterday's, last week's, last month's - ALL OF THEM! Just like the light bringing forth a new day for the birds that sing and the trees that sway, it also brings forth a new day for me and for you. A day that let's us focus on living for Him and reaching FORWARD with a desire to seek our Father's face. 
Thank you Father for your love, mercy, grace and forgiveness. Father bind my wandering heart to Your goodness and replace my sinfulness with desires to walk closer to and live boldly for You. 
O to grace  
how great a debtor 
Daily I'm constrained to be! 
Let Thy goodness,  
like a fetter, 
Bind my wandering  
heart to Thee. 
Prone to wander,  
Lord, I feel it, 
Prone to leave the God I love; 
Here's my heart,  
O take and seal it, 
Seal it for Thy courts above.